H-Alpha Image
Culgoora Solar Observatory H-Alpha images are used for flare patrol of the solar chromosphere.
Please Note: This instrument was damaged in a lightning strike in January 2012 and is in the process of being replaced.
The new instrument is scheduled to come on-line in 2017, with improved optics and higher resolution imagery.
See the Solar Help page for more information.
Estimated day-night location at Culgoora Solar Observatory: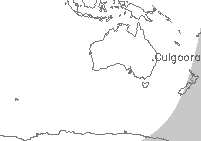 X-ray flux
The current Solar X-Ray Flux from GOES satellite (US Space Weather Prediction Center) is as follows.

Culgoora Solar Observatory
Culgoora Solar Observatory is located at 30.28 South, 149.58 East, near the township of Narrabri in NSW.
Weather conditions at Culgoora:
The observatory status (weekdays only, when staffed) is as follows.
(last updated 14 May 2015 23:55 UT - empty)