About Space Weather Services - formally known as IPS
The Space Weather Services or SWS (formally known as IPS Radio and Space Services or IPS) is the space weather and HF communications section of the Bureau of Meteorology.
From its fifteenth-floor office in central Sydney, SWS, monitors and forecasts space weather conditions, which include solar activity, and geophysical and ionospheric conditions.
Space Weather, a catchy phrase that came into common use in 1990s, may sound innocuous, but it offers serious threats to increasingly complex communications and technological systems. Space weather disturbances can interrupt HF radio, damage power grids, threaten satellite transmissions and instruments, including avionics in extreme circumstances, and reduce the life of satellites in low earth orbits. They can even put long- distance pipelines at risk by reducing the efficiency of anti-corrosion cathode systems. As reliance on technology grows, so does the impact of space weather events. The potential impact of solar activity is such that severe space weather events are ranked in the top four serious threats to the UK in its national risk register.
Realising the impact of space weather conditions on various businesses, the Federal government set up the IPS within the Department of the Interior in 1947, previously an activity of the Radio Research Board of the then CSIR (now CSIRO). IPS was moved into the Bureau in the late 60s and then was moved to the Department of Science (1972), Administrative Services (1987) and Industry, Tourism and Resources (1997) before rejoining the Bureau in 2008.
SWS manages an extensive network of observatories hosting magnetometers, ionosondes and other sensors around the Australia/New Zealand region and Antarctica. Observations are combined with data from satellites and other countries observations to monitor space weather and provide services and advice on space weather conditions for radio communications, satellite navigation and other operations. SWS is a member of International Space Environment Service (ISES), and operates the regional warning centre for the Australasian region.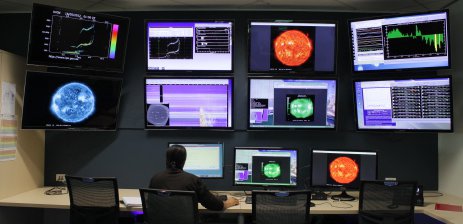 SWS maintains a high profile in the international scientific community by actively collaborating with universities and other research organisations to conduct research into space weather, HF communications, satellite navigation and geomagnetic surveys, and regularly participates in national and international science events by presenting scientific papers, publishing and refereeing journal papers, contributing panel membership, and providing radio consultancy advice. The National Space Weather Plan and Decadal Space Science Plan, developed by the National Committee for Space Science for the Academy of Science, aims to broaden SWS's role to be the national focus for space weather, a catalyst for communication between space weather research and the customer community, and a voice for public education and input on space weather issues.
Consultancies are also provided for planning and operation of HF radio systems including antenna modelling, radio wave propagation and ionospheric characteristics. These have ranged across communications systems, direction finding and trans-ionospheric propagation of GPS and Radio Astronomy. Tools are also being developed for the propagation of VHF/UHF radio across terrain and amongst buildings.
As the leading ionospheric agency in the southern hemisphere, SWS operates the World Data Centre for Solar- Terrestrial Science, tackles specialist consultancy tasks, presents training about the effects of space weather on HF radio propagation and how to use SWS software tools to select the right frequencies for successful radio communication, and supplies data and information on the upper atmosphere and space weather to various scientific, research and commercial organisations.
Customer surveys identify potential new services. Innovations have included specialised radio frequency services for various airlines and several Federal and State Government Departments, and new web pages for different businesses. SWS's major clients include the Department of Defence, Airservices Australia, commercial airlines (QANTAS, Jetstar, Virgin Blue), BOEING, Emergency Services, Australian Customs Department, Australian Communications and Media Authority, and the Australian Maritime Safety Authority.
SWS provides information about space weather through daily/weekly/monthly reports and alerts and warnings as required by the space weather conditions. Many of SWS services are freely available via the SWS website and e-mail subscriptions. Some services are also available via SMS for a nominal charge. To subscribe to or find out more about these services, please visit the subscriptions page.
Using SWS services and information, people vulnerable to space weather disturbances may be able to minimise potential impacts by taking appropriate protective actions, for instance in case of an expected ionospheric disturbance HF communicators can switch to an alternate radio frequency, changing the mode of communication, or adjusting the antennae characteristics. SWS staff will be happy to offer assistance in choosing the best mitigation strategy for your system.
SWS services enhance national security, defence, emergency services, public safety and industry.
Also see: