VHF and UHF Area Prediction Tool Details
Digital Elevation Models and Raster Imagery
Main input data source being DEM (Digital Elevation Models) derived from Satellite and LIDAR sources.
DEMs measure the highest point below a nominal observer hovering the earth (data can include buildings and trees).
Imported into software in square tile or irregular format.
Variable resolution from 5m to 1km.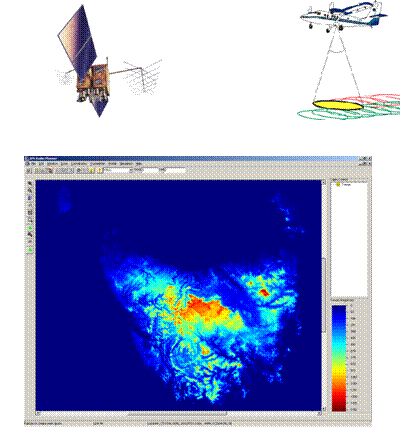 Mapping and Coordinate Systems
GIS requirements for use on Australian terrain data.
Incorporating Australian AGD66, AGD84 and GDA94 datums (GRS80 ellipsoid) and equivalent UTM projections for grid coordinates AMG66, AMG84 and MGA94.
Operations to perform conversions between Grid coordinates (Eastings/Northings) and Geographical (Latitude/Longitude) using Redfearn's formulae.
Distance and Height Scale factors for accurate distance calculations on the ellipsoid.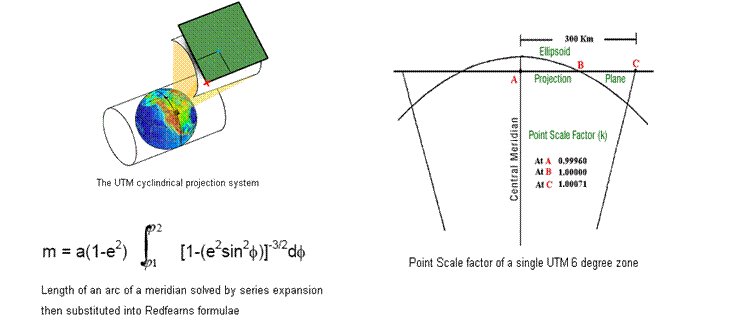 Empirical Propagation Models
ITU recommended Empirical Pathloss models such as Okumura-Hata and Longely-Rice
Okumura-Hata model variations for Large Cities, Medium Cities, Suburban Area and Open/Rural Areas. Valid for:

150MHz < f < 1500MHz
30m < Htx < 200m
1m < Hrx < 10m
1km < d < 20km

COST 231 Hata model for 1500MHz-2000MHz.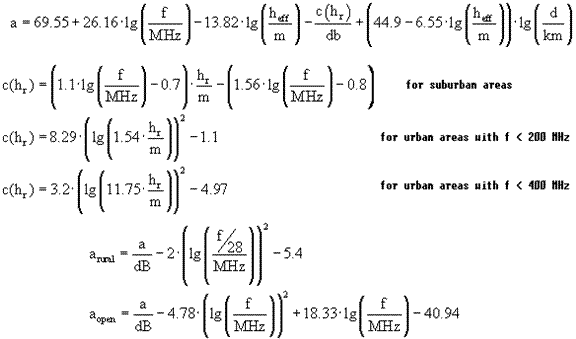 Knife Edge Diffraction
Semi Deterministic pathloss models employ knife edge diffraction for evaluating hilly terrain and finding losses in shadowed regions.
A terrain cross section profile is produced between the Tx and Rx which is then passed through a convex hull function to find diffracting radio path.
Decision calculations based on the knife edge model are performed to produce the Fresnel-Kirchoff diffraction parameter

ν

.
Fresnel-Kirchoff parameter then substituted into Lee's approximation of attenuation over single diffracting edge.
Used in conjunction with the Friis transmission equation for pathloss (dependent upon Fresnel zone clearance).
Path loss (dB) = 32.44 + 20 log d (km) + 20 log f (MHz)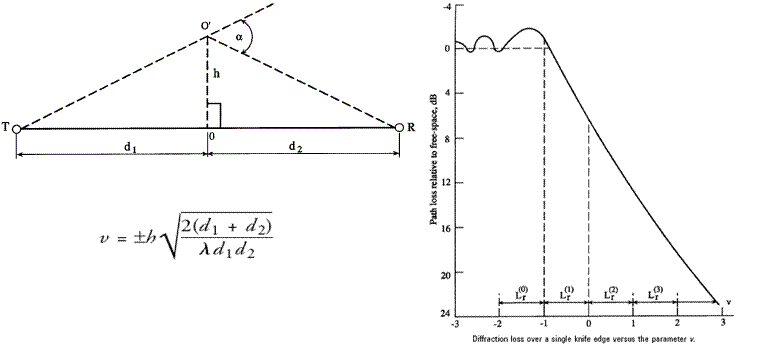 Each model differs in its approach to determining the inputs to the Fresnel-Kirchoff diffraction parameter ν equation, and for what edge contributes most to the loss.
Bullington model below takes simplest, least accurate approach and reduces the profile to a single knife edge.

Epstein-Peterson model below considers each significant knife edge individually and sums each loss over the diffracting path

Giovanelli method below identifies a dominant edge and calculates each loss with respect to it, but creates separate observation planes for each edge

Deygout model below identifies a dominant knife edge and calculates all losses with respect to it.
Antenna modeling
Vertical and Horizontal gain patterns loaded in from a manufacturers antenna data file.
Pattern multiplication performed for an approximate 3D representation.
Full gain pattern can be incorporated into propagation model via a simple ray-trace function and added to the pathloss equation.